The Little Miami Farms Difference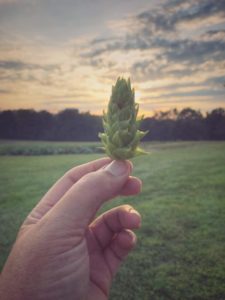 We have been growing high quality local hops for craft brewers since 2014.  We are a small operation and take great pride in the attention we give our plants; we tend our hop yard daily, providing the best conditions possible for optimal growth and development.
Harvested at their peak of freshness, Little Miami Farms' hops feature the flavors, smells and textures of Ohio.  We hand pick our hops to ensure the highest quality cones are selected.  And we dry our cones on-site in a custom-built drying oast that uses forced air at ambient temperature in order to maintain the highest quality flavor and aromas, with minimal lupulin loss from agitating the cones.
We offer our hops in whole cone or T-90 pellet form to local craft brewers as well as home brewers.  For brewers interested in "fresh hopping," we can arrange for local pick up or delivery of cones within 24 hours of picking.  Harvest season begins in mid-August and continues until early September.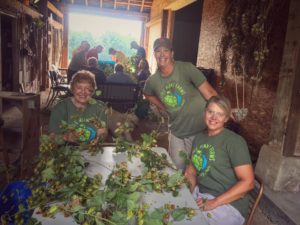 Our hop yard features the following varieties:
Cascade– Cascade's real strength in brewing is in the aroma – citrusy aroma, sometimes compared to grapefruit; dual-purpose, developed in the 1950s; one of the "3 C's" (along with Centennial and Columbus/CTZ); (alpha acid 4.5%-7% / beta acid 4.5%-7%).  Lends itself to Pale Ales, IPAs, American Pale Ales, ambers, reds and wheats.
Chinook– Strong American bittering cross released in 1985; called a "Super alpha" for its bittering qualities, also has great aroma qualities for dry hopping with a Cascade-like aroma, and somewhat spicy bouquet. Some piney and herbal notes will be evident in a fresh batch. (alpha acid 12-14% / beta acid 3-4%). Chinook is popular in American style beers such as Pale Ale and India Pale ale, but extends itself well to Seasonal Ales, and darker beers including Porter, Stout, and Barley Wines.
Crystal– Released in 1993, these low alpha acid aromatic hops brings with them a mix of woody, green, some floral and fruit notes, with some herb and spice character. Crystal is a half-sister of Mt. Hood and Liberty (alpha acid: 4.0-6.0% / beta acid: 5.0-6.7%). Crystal Hops lends itself to a number of beers like Light Ales, such as Goldens, Pale Ales, Aroma for India Pale Ales, and even Stouts and Lagers.
Nugget– Dual use American hop released in 1983; heavy herbal aroma. Acute bitterness provides the umph in many beer styles that require the hop jolt including imperial style ales. Ideal for dry hopping; (alpha acid: 9.5%-14% / beta acid 4.2%-5.8%). Versatile, can be used to make a variety of brews including IPA, Pale Ale, Blonde Ale, American Wheat, Extra Special Bitter (ESB), American Pale Ale, Imperial India Pale Ale, Irish Stout, Oktoberfest, Rye Ale, Best Bitter, Extra Pale Ale, Barley Wine or Strong Ale.
Contact us / call 937-532-9569 if you are interested in our current hop crop.