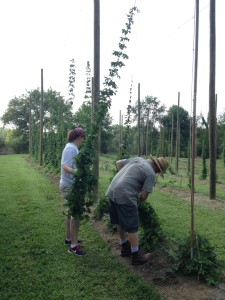 The Little Miami Farms Difference
We are a small operation; we tend our hop yard daily, providing the best conditions possible for optimal growth and development.
We dry our cones on-site in a custom-built drying oast that uses low temperature air flow in order to maintain the highest quality flavor and aromas, with minimal lupulin loss from agitating the cones.
For brewers interested in "wet hopping," we can arrange for local pick up or delivery of cones within hours of picking. Harvest season begins in mid-July and continues until early September. Our hops are available to local craft brewers as well as home brewers.