NOW AVAILABLE!  Fall Mums and Pumpkins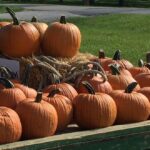 Color your fall landscape with a variety of mums and pumpkins grown by Little Miami Farms.  Mums available in 8" pots as well as extra-large tri-color planters.  Pumpkin varieties include minis, decorative specialty and orange in all sizes for carving.
You can order and pay on our online store.  Or send us your order by clicking here and you can pay when you pick up your items by appointment at our farm.  Our mums and pumpkins are also available for purchase at the Little Miami Farms stand at the Oakwood Farmers Market on Saturdays (9a-1p) or This Old Farmers Market in Beavercreek on Sundays (noon-3p).
Colors available: