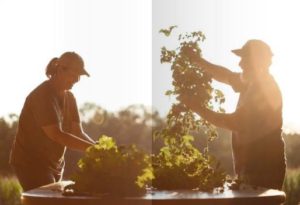 From a passion for all things locally grown, Little Miami Farms was founded with the mission to help preserve farmland while producing high quality regional products.  Located near the Little Miami River in Spring Valley, Ohio, we've been doing traditional farming – including corn, soybeans and hay – on 75 acres since 2002.
Though we respect tradition, we consider ourselves progressive…so after researching alternative crops that would meet local market needs, in 2014 we expanded into growing hops to supply local craft brewers as well as home brewers. We introduced two-row barley to the farm in 2015 and are currently constructing a malt house. We expanded again in 2017 and now also annually grow and offer over 145 varieties of produce, herbs, microgreens, pumpkins and winter squash as well as fresh-cut flowers, petunias, mums and natural decor.
Little Miami Farms sells locally grown products and understands the value of purchasing from people you trust.
Our commitment is to provide our local community with high quality, fresh crops harvested at their peak flavor.  We believe you should know about our cultivating practices; we are always willing to honestly answer any question about how we grow our products.
We grow heirloom and open pollinated varieties whenever possible. We do not grow GMO produce.
We are focused on growing in the most sustainable way. We extend our growing season through the use of high and low tunnels and plasticulture (biodegradable plastic mulch), and use barley straw to manage algae in our irrigation pond instead of using chemicals or dyes.
We promote soil health by producing over 100 cubic yards of compost annually from food waste, shredded leaves, wood chips and biochar. And we minimize soil erosion through the use of cover crops, drip irrigation and buffer zones.
Our produce and hops are locally grown, which means short "food miles" to market and local brewers to ensure our offerings are as fresh as possible.
Little Miami Farms is committed to supporting our community.
We support education on agriculture in our schools and host educational events on our farm to support The Ohio State University Extension
We participate in an annual state-wide Hop Yard Open House each July to showcase Ohio grown hops and to educate current and prospective growers
We support The Ohio State University and Central State University hop research programs on our farm.
We are proud members and are actively involved with the Greene County Farm Bureau, the Greene County Local Food Council, the Greene County Farm Forum, the Xenia FISH Food Pantry, the Ohio Ecological Food and Farm Association and the Ohio Hop Growers Guild.
We donate surplus in-season produce to the local Xenia FISH Food Pantry.
Little Miami Farms is a first-generation specialty farm. 
Although we are classically trained business professionals, we prefer the great outdoors to the office.  Our friendship started in the corporate world over 25 years ago when we discovered our shared interests and likes, including a drive to do things well and to do them right the first time. But we're not too serious…we love to meet new people and have fun!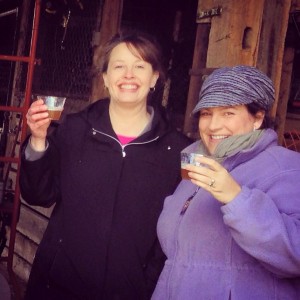 If you're in the area, please stop by and meet the Little Miami Farmhands:
Jamie Arthur – manages all the farm and hop yard operations. Give him a call to schedule a visit to the farm or ask about this year's open house dates: 937-532-9569.
Krista Arthur – supports the growing operations as well as special events. Contact her if you're looking for a unique venue for your next event or would like to spend time relaxing at the farmhouse: 937-367-1077.
Amy Forsthoefel – manages Little Miami Farms hops marketing, social media and outreach. Stay current and connected with us on Facebook and #BrewLocal! Reach Amy at 937-750-2382.