Where to Buy Our Locally Grown Produce, Flowers, Pumpkins & Hops
We have many ways you can purchase Little Miami Farms locally grown products and services.  Please check out the options below and give us a call 937-367-1077 / contact us if you have any questions or would like to place an order.
Order Online and Pick Up:  Shop online and purchase our current offerings from the Little Miami Farms online store.  Pick up your order at the farm by appointment. Summer and Fall 2023:  fresh seasonal produce as well as autumn mums and pumpkins. Available Spring 2024: petunia baskets, veggie & herb garden seedlings and patio plants.
Wholesale:  We sell our super fresh crops – harvested at their peak flavor – to commercial businesses in and around the Dayton area.  And we offer free delivery on Wednesdays!
Our in-season chart lists what we grow and when it is available.  We will also grow specific produce items upon request for your commercial business.
Farmers Markets:  You can find Little Miami Farms at your local markets:
NEW – Xenia's Farmers Market on the Square! 
Farmers Market Xenia
, Saturdays 9a-noon from May 13-Sept 2
SPRING ONLY: the 
Lebanon Ohio Farmers Market
 on Thursdays 3-7p from May 18-June 8
FALL ONLY: the 
Oakwood Farmers Market
 on Saturdays 9a-1p from Sept 2-Oct 14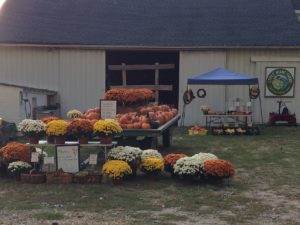 By Appointment:  Schedule a time to visit us at the farm if you would like to purchase freshly harvested produce or flowers.   Open by appointment and for open house events, we invite you to come check us out.  Give us a call to schedule your visit or ask about this year's open house dates:  937-532-9569.
Seed Cleaning Services:  We offer seed cleaning services throughout the year for wheat, rye, barley, field corn and heirloom corn.  Our seed cleaning facility handles orders from 5 to 5,000 bushels.