Where to Buy Our Locally Grown Hops, Produce, Pumpkins, Flowers & Barley Straw
We have many ways you can purchase Little Miami Farms locally grown products and services.  Please check out the options below and give us a call 937-367-1077 / contact us if you have any questions or would like to place an order.
Order Online and Pick Up:  Shop online and purchase our current offerings from the Little Miami Farms online store.  Pick up your order at the farm by appointment.  Currently offering fresh seasonal produce, natural décor and logo wear.  Coming soon:  autumn mums, asters and pumpkins.
Wholesale:  We sell our super fresh crops – harvested at their peak flavor – to commercial businesses in and around the Dayton area.  And we offer free delivery on Thursdays!
Our in season chart lists what we grow and when it is available.  We will also grow specific produce items upon request for your commercial business.
Farmers Markets:  You can find Little Miami Farms at the following markets throughout the growing season –
Sugarcreek Township Farmers Market – Fridays, 3-6p  (May – Nov)
Oakwood Farmers' Market – Saturdays, 9a-1p  (June – Oct)
City of Bellbrook Farmers Market – Saturdays, 10a-1p  (2nd/4th Sat. of month, June – Oct)
This Old Farmer's Market (Beavercreek) – Sundays, 12-3p (June – Oct)
Yellow Springs Winter Farmers Market – Saturdays, 8:30-11:30a  (TBA)
By Appointment:  Schedule a time to visit us at the farm if you would like to purchase freshly harvested produce or flowers.   Open by appointment and for open house events, we invite you to come check us out.  Give us a call to schedule your visit or ask about this year's open house dates:  937-532-9569.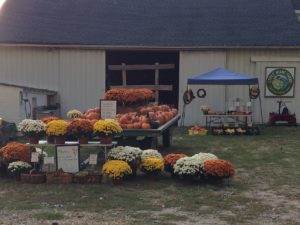 Seed Cleaning Services:  We offer seed cleaning services throughout the year for wheat, barley, field corn and heirloom corn.  Our seed cleaning facility handles orders from 5 to 5,000 bushels.