July 23, 2016 – We're excited to partner with the Fifth Street Brewpub on a 3-part Hop Harvest celebration this year. If you're not a member yet, sign up at the Brewpub and then join us for a members-only dinner on the hops farm while the bines are at their peak. We'll follow up with picking/brewing and tapping celebrations later in the growing season.
The dinner kicked things off. Guests enjoyed: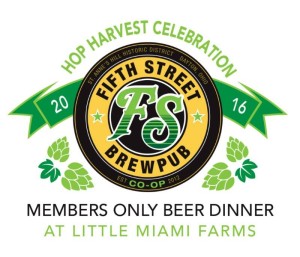 ❖ A tour of the Little Miami Farms hop yard and mingling with fellow FSB members
❖ Learning about hop production for craft brewing
❖ Picnic-style dinner by Christopher's Catering
❖ Beer tasting – sampled four 12oz beers
Using the same base beer, each variation featured a specific hop variety to be harvested for this year's fresh hop harvest ale
On Sunday, Aug. 6, we followed the dinner with a Hop Picking Party at Fifth Street. The fresh-picked hops were used in harvest brew the next day.
Watch for a release date of the 2016 fresh-hopped ale!